Savannah, Ga. — Poet and author Maya Angelou has ended a decadelong stalemate over a slavery monument by adding a single line to her quotation describing the brutal conditions aboard slave ships.
The amended inscription for the monument, a bronze statue of a black family with broken chains at their feet, won unanimous approval from the Savannah City Council Thursday.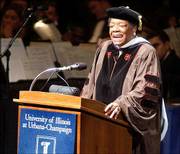 The wording was one of the final hurdles for black leaders who plan to unveil the monument July 27 on Savannah's cobblestone riverfront, where the first slaves came into Georgia.
Though city officials approved the statue last year, Mayor Floyd Adams and others cringed at black leaders' insistence on using the graphic quote by Angelou.
The quote reads: "We were stolen, sold and bought together from the African continent. We got on the slave ships together. We lay back to belly in the holds of the slave ships in each others' excrement and urine together, sometimes died together, and our lifeless bodies thrown overboard together."
In a January letter to the monument's planning committee, Angelou proposed an upbeat coda: "Today, we are standing up together, with faith and even some joy ... "
Some city officials had worried that the quote might be too graphic for public display on the riverfront, one of the most popular tourist spots in Savannah. Black leaders say the stalemate over the quotation slowed their ability to raise money for the monument, which will cost up to $750,000.
"It's extremely important because now those who have not been contributing money and were worried the city might renege on the location know these hurdles have been removed," said the Rev. Thurmond N. Tillman, one of the monument's boosters.
Angelou, author of "I Know Why The Caged Bird Sings," said last year she understood why city officials were hesitant to approve her quotation.
"The picture of it, it's so horrible. And yet if we can see how horrible it is, then we might treat each other a little nicer," she told The Associated Press in February 2001.
City Alderman David Jones praised Angelou "for taking her time out ... to make the changes we asked for."
Copyright 2018 The Associated Press. All rights reserved. This material may not be published, broadcast, rewritten or redistributed. We strive to uphold our values for every story published.