Fort Drum, N.Y. — After watching Army helicopters drop troops and howitzers from a steel-blue sky, President Bush answered a soldier's shout of "Let's get Saddam!" with a promise Friday to defeat the "mounting danger" of terrorist regimes.
"We will use diplomacy when possible and force when necessary," Bush told thousands of flag-waving members of the storied 10th Mountain Division, many of whom served in Afghanistan.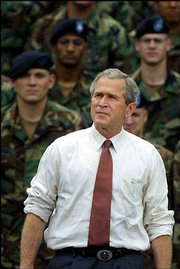 In a dusty, scorched-grass field, the president rallied troops from a makeshift stage. His 22-minute speech was punctuated by applause and shouts of "Hoo-ah!" the traditional Army yell of approval.
Bush did not mention Saddam Hussein or Iraq, Iran and North Korea, countries he has said constitute an "axis of evil," but his audience read between the lines.
"Some parts of the world, there will be no substitute for direct action by the United States. That is when we will send you, our military, to win the battles that only you can win," the president said.
He urged Democrats in the Senate to swiftly pass a huge boost in Pentagon spending already approved by the GOP-led House.
One soldier yelled, "Let's get Saddam!" A thunderclap of applause and shouts forced Bush to pause.
He did not react directly to the challenge, but renewed his case, opposed by most U.S. allies, for the United States to intervene against oppressive regimes that produce, hide and prepare to use weapons of mass destruction.
The enthusiastic welcome here offered Bush respite from Washington, where criticism has grown about his past business dealings and handling of the sagging economy.
Democrats are even beginning to question some of Bush's war policies, despite polls that show Americans support his actions and generally approve of his presidency.
Bush urged resolve by telling soldiers at the large rally, "In this war, there'll be times of quiet, and there'll be times of crisis; times that call for patience, and times that call for sacrifice."
Troops from Fort Drum were the among the first Army units deployed after the terrorist attacks on Sept. 11. Most were home by the end of April.
The 10th Mountain, a light infantry, rapid-deployment force ready to go anywhere in the world within 48 hours, was the Army's most frequently deployed division in the 1990s.
Based at Fort Drum since 1985, the division earned its reputation in World War II. Its soldiers scaled a sheer cliff in northern Italy, fought their way through the snowy mountains and spearheaded the drive that would liberate the country from the Nazis.
Bush called one 10th Mountain Division veteran, former Senate Majority Leader Bob Dole, "one of the great living Americans."
Copyright 2018 The Associated Press. All rights reserved. This material may not be published, broadcast, rewritten or redistributed. We strive to uphold our values for every story published.