Fear gripped a usually peaceful Lawrence neighborhood Thursday after two bodies were found in a house in the 1500 block of Learnard Avenue.
"This is very scary," said Denise Gibson, 40, a neighbor and vice president of the area's Barker Neighborhood Assn. "It's always been a nice, safe neighborhood. Kids have always been able to walk around and play in the yards."
"We believe this to be homicide," Lawrence Police Chief Ron Olin said as officers began investigation of what would be the city's first multiple murder in almost a decade, if Olin's suspicions prove correct.
Neighbors watched mostly in stunned silence as police went about the work of investigating the city's first homicide case in more than two years.
The bodies were discovered about 4:30 p.m. in the house at 1530 Learnard Ave., Olin said. He wouldn't say who found the bodies. Nor would he speculate about details surrounding the deaths. Olin said additional information would be made public today.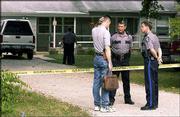 "I'm sure our people are going to be working well into the night," he said.
Names of the dead were not released pending notification of family. Property and telephone records indicate the home belongs to a W.M. Chandlee. Neighbor Rachel Lemus identified the couple who lived in the home as Pete and Wyona Chandlee.
'Safe neighborhood'
Neighbors came out of their houses and stood in the hot sun to watch as police blocked part of Learnard and put up yellow crime scene tape in front of the one-story gray-green house.
Esther Turmes, 18, said she knew an elderly man and woman who lived at the house. She said she used to sell them Girl Scout cookies or candy for school projects.
"They'd always chat with me," Turmes said. "I've lived here all my life and nothing like this has ever happened around here like this. This is an awful thing."
Barbara Shival, 69, has lived in the neighborhood 30 years and said she couldn't remember anything quite so awful. Shival and others said they didn't know well the elderly couple who lived at the house, but would often wave at them when they were outside.
"I was out all morning," Shival said. "Usually I see them out, but I didn't see them out this morning. You never dreamed something like this would happen here."
Lemus, who has lived next door since 1968, said the same woman had lived in the house for 15 or 20 years. Lemus and her husband didn't know their neighbors well but said they were "very, very good people."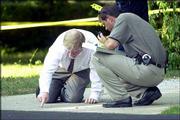 Lemus said the couple was retired and liked to spend time outdoors camping, fishing and gardening. She said the husband usually planted a garden every year, sharing vegetables with his neighbors, but hadn't this year because he had been ill. Lemus said the man had open-heart surgery, though she wasn't sure how long ago. Mrs. Chandlee told Lemus her husband had been on oxygen.
The last time the neighbors spoke, in a phone conversation Saturday, Mrs. Chandlee told Lemus that Mr. Chandlee was set to enter the hospital Tuesday, but Lemus hadn't seen or heard from them since that conversation.
Lemus said the couple had at least three children and were grandparents in their mid to late 60s. She said the couple always had a Christmas party.
"This year they didn't do it for some reason," Lemus said. "It might have been he wasn't feeling good yet."
No suspicions raised
Lemus said the deaths made her a little jittery.
"You always hear it happens someplace else," Lemus said. "This is pretty close to home."
Robert Williams, who lives across the street from the house where the bodies were found, said the man and woman who lived there had come home about 9:30 p.m. Wednesday. Another neighbor told Williams the couple was returning from the hospital, where the man had been treated for a heart-related illness.
Williams didn't know the man and woman well either, but said they liked to go camping. He said they often were gone on weekends in the motor home that was parked in their driveway.
Neither Lemus nor Williams said they heard or saw anything suspicious Wednesday night or Thursday before police showed up at their neighbors' home.
The last homicide investigation in Lawrence occurred in April 2000, after a homeless man, John Lowe, 38, was killed when a car struck him in an alley near the then-Community Mercantile store and drug his body around the corner to Mississippi and Ninth streets. A Missouri man was later convicted of killing Lowe while driving under the influence of alcohol.
In 1993, there were three multiple homicides in Lawrence. On Jan. 10 that year, Young S. Puckett, 32, and her two young sons died in an arson blaze. Seven days later, LaTonya Farmer, 17, and a friend, Brandy Martin, 13, died in another arson. Also that year, Linda Smith, 34, and companion John Pease, 47, were shot to death.
Copyright 2018 The Lawrence Journal-World. All rights reserved. This material may not be published, broadcast, rewritten or redistributed. We strive to uphold our values for every story published.