New Orleans — Poet and painter Stan Rice, husband of novelist Anne Rice, has died at age 60.
He died Monday of brain cancer.
Born in Dallas, Rice met his future wife in a high school journalism class.
They married in 1961 and enrolled at San Francisco State University, where he went on to become assistant director of the Poetry Center and later headed the creative writing department.
In 1988, the couple moved to New Orleans, where Rice eventually opened the Stan Rice Gallery.
In "Prism of the Night," a 1992 biography of Anne Rice, she said of her husband: "He's a model to me of a man who doesn't look to heaven or hell to justify his feelings about life itself. His capacity for action is admirable. Very early on he said to me, 'What more could you ask for than life itself?"'
Victoria Wilson of the publishing house Alfred A. Knopf, who edits Anne Rice's novels and worked with Rice on his 1997 book, "Paintings," said Rice refused to sell his artworks.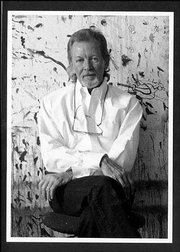 "The great thing about Stan is that he refused to play the game as a painter, and he refused to play the game as a poet," Wilson said.
Rice's seven poetry collections attracted numerous honors, including the Edgar Allan Poe Award of the Academy of American Poets, the Joseph Henry Jackson Award and a writing fellowship from the National Endowment for the Arts.
In addition to his wife, survivors include a son, Christopher, his mother, a brother and two sisters.
Copyright 2018 The Associated Press. All rights reserved. This material may not be published, broadcast, rewritten or redistributed. We strive to uphold our values for every story published.