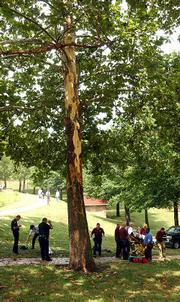 A Kansas University student was injured in a lightning strike shortly after noon on campus.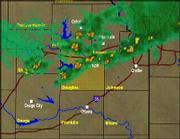 Traci Pillard, 21, a senior from Salina, was going north down a sidewalk near Potter Lake when lightning struck a tree as she walked by. Pillard was listed in fair condition Thursday afternoon at KU Med in Kansas City, Kan.
Witnesses said the student was talking after being hit. Her clothing was in shreds and pieces of her blue jeans were on the ground.
Witnesses said a bolt of lightning hit a sycamore tree just to the east of the sidewalk as the student walked by.
The student was taken to a track and field area just east of KU's Memorial Stadium to be transported by helicopter to KU Med.
For the latest updates, tune in at 6 p.m. and 10 p.m. to Sunflower Broadband Channel 6 and pick up a copy of Friday's Journal-World.
Copyright 2018 The Lawrence Journal-World. All rights reserved. This material may not be published, broadcast, rewritten or redistributed. We strive to uphold our values for every story published.