Washington — An appeals court Friday directed the Federal Aviation Administration to, in effect, limit the number of helicopters and small airplanes that can fly sightseers over the Grand Canyon.
The U.S. Court of Appeals for the District of Columbia ordered the FAA to use a stricter definition of "natural quiet" when deciding how much air traffic to allow over the canyon.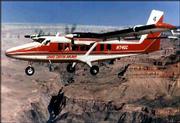 Environmentalists predicted that the ruling would limit the overflights that they say interfere with visitors who try to appreciate the grandeur and wildness of the park from the ground or the Colorado River.
Congress told the FAA and National Park Service in 1987 to "substantially restore natural quiet" at the canyon, where noise from numerous helicopters and small planes had become common.
Despite a couple of rounds of regulations from the FAA since then, the number of annual flights over the canyon has grown from 40,000 to 130,000.
Copyright 2017 The Lawrence Journal-World. All rights reserved. This material may not be published, broadcast, rewritten or redistributed. We strive to uphold our values for every story published.