Visit website 4525 W 6th St , Lawrence, KS 66049 Open today until 6 p.m.
Products/Services / Nordic Naturals ProOmega Liquid $39.95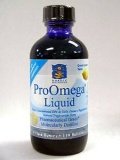 EPA and DHA are essential nutrients for growth and development throughout the human life cycle. ProOmega Liquid contains 70% pure Omega-3.
Suggested Use: One-half teaspoon daily, or as directed by your physician or pharmacist.
*Consult with your physician before use if you are pregnant, diabetic, allergic to iodine, using blood thinners, or anticipate surgery.