Visit website 2619 W 6th , Ste. B, Lawrence, KS 66049 Open today until 4 p.m.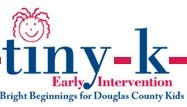 tiny-k Early Intervention
Has FREE, in-home support and resources to families and children 0 to 3, with special needs.
Focuses on the Family's priorities for their child through a "Primary Coach" approach.
Staff are licensed professionals: Physical and Occupational Therapists, Speech-Language Pathologists, Early Childhood Special Education teachers, Social Worker, Registered Dietitian, as well as others.