PO BOX 3133, Lawrence, KS 66046
Events / 6th Annual Lawrence Food Garden Tour!!!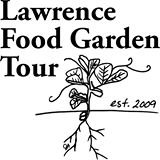 Saturday, June 7, 2014, 9 a.m.
Come visit these wonderful personal, community and school gardens throughout Lawrence, Kansas.
The sixth annual tour is scheduled for Saturday, June 7. Gardens will be open to the public during the morning hours of 9 a.m.-noon and the evening hours of 5 p.m.-8 p.m.
This free, self-guided tour showcases the diversity of food gardens within the city limits of Lawrence, Kansas. Gardens will include produce, herbs, perennials, fruit trees, berries, native plants, raised beds, permaculture, companion planting, water harvesting, chicken-keeping, beekeeping and much more. Gardeners will be on site to give tours and share garden knowledge and inspiration.
There will be 16 gardens on this year's tour.