Visit website 1631 Crescent Rd, Lawrence, KS 66044 Opens Sunday at 8:30 p.m.
Photos / Troy Hinkel, Coordinator of Ministry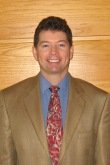 Troy has a B.A. in English and Communications from the Univ. of Colorado, and a Masters degree in Theology and Christian Ministry from Franciscan University. Currently, he is working towards his Ph.D. at KU. Troy directs and teaches our Young Catholic Scholars theological formation program and student professional groups, and teaches theological education. Troy and his wife, Laura have five children.