Visit website 1105 W 25th St, Lawrence, KS 66046 Opens Thursday at 9:30 a.m.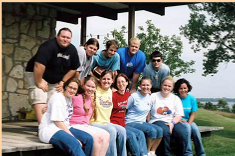 Hawks for Christ is a campus ministry of the Southside Church of Christ, and a student organization at the University of Kansas. Hawks for Christ and the Southside congregation endeavor to be second home to the many Christian students that pursue their higher education in Lawrence. In the spirit of Proverbs 27:17, we seek to be a community of faith that encourages one another to build a genuine, personal faith in Christ, and to develop authentic relationships with other people. As men and women of faith, primarily on the campus of the University of Kansas, we also desire to reach out to our fellow students because we know that the gospel of Christ is an invitation to be shared with all.
Daniel McGraw will begin as campus minster in July.