Visit website 4828 Quail Crest Place, Lawrence, KS 66049 Opens Monday at 8 a.m.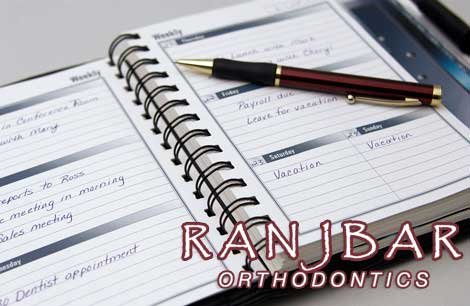 We pride ourselves on valuing your time. Therefore we have structured our appointments to help limit the number of trips you need to make to our office.
Your First Visit (Duration: 30 min)
Your first visit to our office is complimentary and is designed to provide you with as much information about your orthodontic and dental needs as possible. During this visit, Dr Ranjbar will address your primary concerns as well as provide you with a general overview of your dental status. In most cases, he will let you know specifically what, if any, orthodontic treatment is needed in addition to providing you with the cost associated with the various treatment options discussed. Dr. Ranjbar believes in providing patients with as much information as possible in order to allow them to make an informed decision in selecting the treatment option that best fits their concerns.
Your Second Visit (Duration: 2 hours)
At the second visit, diagnostic records will be taken to confirm the doctor's initial impression as well as to help in tracking the progress of the treatment as the teeth move to their new position. The records consist of impressions of the teeth, photos of the patient's face and teeth, and X-rays. Dr Ranjbar will then review the records to confirm his initial treatment plan. If something unusual is seen in the records (e.g. missing teeth, damaged roots, etc.) a change may be required in the planned treatment, and so a modification will be made to ensure the best course of treatment. After Dr Ranjbar reviews the records, braces will be placed and a thorough explanation of how to care for the braces will be provided. Aside from the treatment aspect of this visit, the financial portion will also be confirmed. This is simply a review of the original payment plan you would have been provided at your first visit.
Regular Appointments
Our use of cutting edge technology allows patients to be seen at a 6 to 10 week interval with an average adjustment appointment length of 15 to 20 minutes.
You may call our office anytime Monday through Friday between 8:00 AM and 5 PM to schedule appointments or with questions. Treatment appointments are scheduled Monday through Fridays. Patients are seen by appointment only so that we can efficiently care for our patients. We make every effort to be on time for our patients, and ask that you extend the same courtesy to us. If you have a 30 minute appointment at 4:00 PM and then arrive 15 minutes late this creates a situation where the next patient is not seen on time. As a result we have implemented a 15 minute rule which states if you are more that 15 minutes late, you will be rescheduled. Therefore, if you cannot keep an appointment, please notify us immediately. Cancel only if it is an emergency.