Visit website 935 Iowa Street, Suite 3, Lawrence, KS 66044 Opens today at 9 a.m.
About Us / DCirrus® Optical Coherence Tomography Scan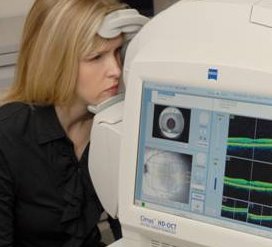 The high resolution Cirrus OCT is the newest form of ocular tissue scanning technology. This instrument is similar to an MRI or CT scan in that it allows us to view the tissues of the eye under magnification and in amazing detail. This instrument is an effective resource available to your doctor, often enabling them to find ocular diseases much sooner than can be seen by regular eye examinations. The OCT can be critical in diagnosing and managing macular degeneration, glaucoma, diabetic eye disease, and ocular tumors.