Visit website 801 E. 9th, Lawrence, KS 66044 Opens Monday at 8 a.m.
PDS Services / Furniture, appliance & junk removal and haul away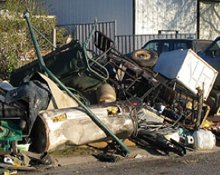 Whether you have a mountain of junk or just one heavy item, it can be a nightmare to de-clutter your space. When you call PDS to your rescue, we'll handle every phase of the process. We'll sort, load, haul, recycle, donate and dispose of every last item that needs to go. The only hand you need to lend is the one that waves goodbye to the clutter!