Visit website 801 E. 9th, Lawrence, KS 66044 Opens Saturday at 8 a.m.
PDS Services / Heavy moving: pianos, safes, etc.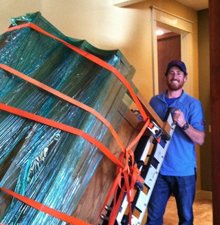 Sometimes our customers need something moved or delivered that is excessively heavy. It can be a real challenge to round up the manpower or equipment to do the job. We are just a phone call away to get the job done right!
Need that Piano moved? Whether you need it moved 4 feet, 400 miles, or just up that flight of stairs PDS will be happy to give you a hand. We have all the professional equipment to get the job done! Check out some of our Piano move jobs in our Photos Section!
If you are looking for a professional company that specializes in moving heavy safes in the Lawrence KS, and surrounding area, you have found us! Important Note: We have never come across a safe to heavy or too large to move. However, sometimes there are stairs that the safe must come up or go down. We may or may not be able to provide this service for you. We will make case by case determinations regarding stairs and other obstructions that the safe must be moved past or around. Sometimes we will have to come out and take a look to see if we can safely remove the safe.