Visit website 1112 W 6th Street, Suite 124, Lawrence, KS 66044 Opens today at 7 a.m.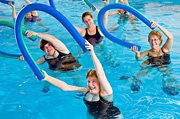 OrthoKansas,LLC. also offers Aquatic programs and services. These services are available Monday through Friday and include convenient morning, afternoon and evening hours, and is open to the public. SPECIAL FEATURES: -Warm Water Therapeutic Pool With Deep Water Capability -Aquatic Therapy Programs & Services -Rehabilitation of Back, Spine & Sports
-Injuries or Recent Surgery -Arthritis Specific Classes
Class Times: Mondays: 6:30 a.m.; 9:00 a.m.: 5:00 p.m.
Tuesdays: 5:30 p.m.
Wednesdays: 6:30 a.m.; 9:00 a.m.; 5:00 p.m.
Thursdays: 5:30 p.m.
Fridays: 6:30 a.m.; 9:00 a.m.; 5:00 p.m.