Visit website 1112 W 6th Street, Suite 124, Lawrence, KS 66044 Opens today at 9 a.m.
Staff & Services / Surgeon Featured As Team Physician For 2011 World Cup Event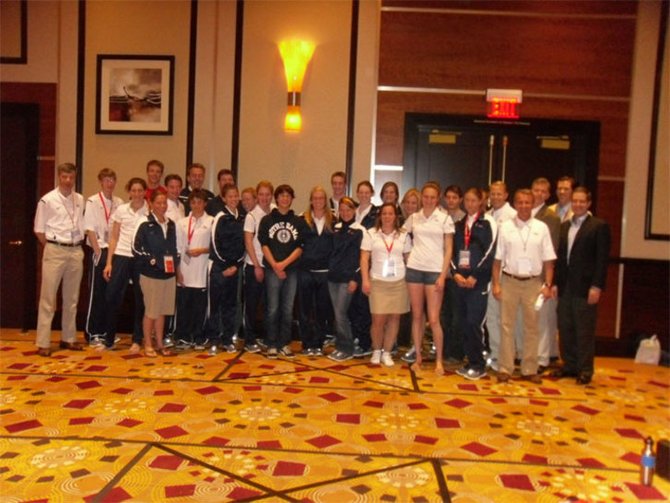 Dr. Douglass Stull, a board certified Orthopaedic surgeon with OrthoKansas, PA in Lawrence, Kansas, was selected as team physician for the United States 2011 World Cup, Modern Pentathlon held in Rancho Mirage, California. The event brought more than 180 athletes from 30 countries to compete across five disciplines which included Epee fencing, swimming, equestrian show jumping and a combined running/shooting event. This was the first World Cup Pentathlon event to the held in the United States since 1999 and is the first in four qualifying competitions for the World Cup Finals, which takes place in London in July 2011 and was also the first qualifying event for the London Olympic Games 2012.
Dr. Stull was raised in rural Maryland, then moved to Austin, Texas where he attended the University of Texas. During this time he trained and competed as a national team member in the sport of modern pentathlon. As an athlete, he traveled extensively competing at the Olympic level. He completed medical school at the University of Texas Medical Branch in 2000 and completed his orthopaedic surgery residency at Carolinas Medical Center in Charlotte, North Carolina in 2005. Dr. Stull further sub-specialized in the shoulder and elbow at the University of Pennsylvania in Philadelphia completing a fellowship in 2006. He recently obtained The Sports Medicine Subspecialty Certificate from the American Board of Orthopaedic Surgery. He has had experience with all aspects of shoulder and elbow care, from the elite athlete to difficult reconstruction procedures. Dr. Stull's clinical interests include fracture care in adults and children, arthroscopy and arthroplasty, while his special interest, both in research and patient care, continues to be the treatment of the shoulder and elbow in all ages and aspects including sports, trauma and reconstruction.
More on Surgeon Featured As Team Physician For 2011 World Cup Event .