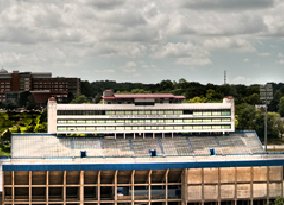 The Spot to Cheer for the Hawks!
If you are from Lawrence or have been here before, you know how crazy it gets on KU game days. If you are a die-hard fan or just looking to be in the middle of all the contagious excitement, you can enjoy the peak experience of pre-game anticipation and post-game parties. Don't have tickets to the game? Don't fret. Watch it from the comfort of the Bird Dog Bar, where you will hear the roar of the crowd from the nearby stadium. With its campus location, big screen TVs and the best bars and restaurant in town, The Oread is by far the best place to be on Game Day.
Watch the Next Big Game in Style Inside our very own theatre style media room. Click for details and call 785.843.1200 to reserve.