Visit website 536 Fireside Ct, Ste D, Lawrence, KS 66049 Opens Monday at 8:30 a.m.
Products / Volunteer Opportunities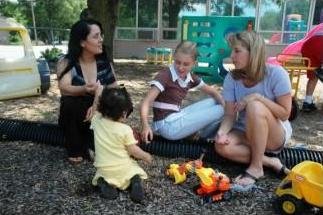 Mother to Mother has the following volunteer opportunities:
• Become a Planning Committee member at our Lawrence, Topeka, or Olathe location. Our Planning Committee members are primarily responsible for an annual fundraiser. Members can also provide help with monthly Mom's Meetings and other Mother to Mother activities.
• Volunteer to help our coordinators with basic office duties, such as helping with newsletters, mailings, etc.
• Become a Support Mom! This volunteer opportunity only requires 4 hours per month in face-to-face and telephone contact with a Partner Mom. A background check is completed for each Support and Partner Mom in our program. To get started, contact your local Mother to Mother office , fill out an application, and attend an orientation. You can truly make a difference!