Visit website 2601 Dover Sq, Lawrence, KS 66049 Opens today at 8 a.m.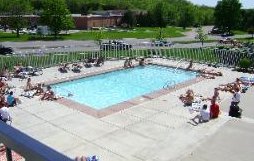 The Meadowbrook campus has several amenities for our residents to enjoy, including a fitness center, two outdoor pools, a tennis court, a basketball court, and several courtyards for outdoor recreation. We also have two playground areas in our community for our families with young children. Residents must carry a valid recreation pass when using any of the recreation areas; residents must also pick up guest passes before bringing friends to the Regency Place pool.
The Amenities at Meadowbrook
Meadowbrook has two pools for our residents. The pool at Regency Place (left) is open to residents and their guests; the clubhouse pool (right) is for our residents only.
Fitness Center Hours: Everyday 5:30 am to 12:00 midnight Fitness center is located on the lower level of the Meadowbrook Clubhouse and is for residents only. During office hours, residents can enter through the main entrance on the second floor and walk down the interior stairs; after hours, the entrance on the lower level (near the pool area) will be open until midnight.

Pool Hours (seasonal): Everyday 10:00 am to 10:00 pm POOLS ARE CURRENTLY CLOSED. The pool located in front of the clubhouse is for residents only; residents can bring their guests to the pool located at Regency Place. (Residents must procure guest passes from the office before taking guests to the pool.)
Basketball and Tennis Courts: Basketball and tennis courts are located in Regency Place, adjacent to the Regency Place pool area. Residents use these on a first-come, first-served basis.

Playground areas: Open accessibility Meadowbrook has two playground areas located in the courtyard at Coventry Manor (south of 1427 Coventry Manor) and in Hampton Court (just east of 1313 Hampton Court).