Visit website 801 Comet Lane , Suite B, Lawrence, KS 66049 Opens today at 10 a.m.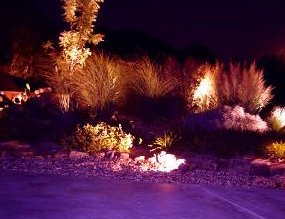 Landscape lighting is far more than just putting in a few lights. Our professional landscape lighting can add an entire new dimension of beauty to your property that you may have never considered.
Many of us work during the day and only have time to enjoy the landscape during evening hours. In addition to beautiful up-lit trees and walls, landscape lighting will make your property more safe and secure from intruders.
The benefits of low voltage landscape lighting are many.
• Beauty - Landscape lighting reveals beauty already there and it creates new beauty with compelling patterns of shadow and light.
• Safety and Security - Landscape lighting replaces glaring security lights with glare-free illumination. Lights are positioned to direct low levels of soft lighting in all critical regions to assure safe passage throughout your property and to protect your home from intruders.
• Romance - We will position lights around decks, patios and pool areas to provide just the right amount of soft and romantic illumination.
• Energy Savings - Low voltage lighting consumes 1/3 the energy of 120-volt lighting. We will also give you control over when the lights turn on and off.