Visit website 3210 Clinton Parkway Court, Lawrence, KS 66047 Open today until 12 p.m.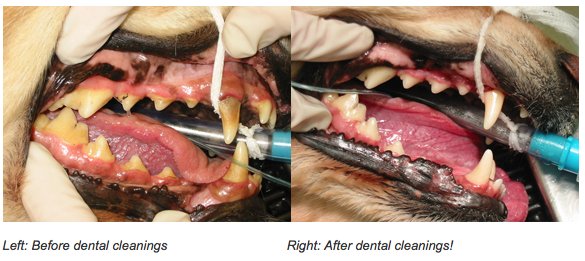 Read more about our dental care services here.
The dental proverb, "Be true to your teeth or they will be false to you," is true for pets, as well as humans. Proper dental care is essential for your pet's health and well-being. Pets need to maintain strong, healthy teeth for more than chewing…grooming, picking up a ball, or capturing a catnip mouse all requires healthy teeth.
Untreated dental disease can be life threatening. Bacteria from tooth decay and gum disease can enter your pet's bloodstream and result in infection in the heart, lungs, and other parts of the body. It is estimated that 85% - 90% of all dogs and cats over the age of three years old suffer from some degree of tooth decay and gum disease.
As in humans, deposits of plaque build up on your pet's teeth. Plaque hardens and turns into tartar which: - Causes inflammation of the gums (gingivitis). - Breaks down ligaments that connect the teeth with bone and gum tissue (periodontitis).
The process for cleaning your pet's teeth is done while under anesthesia. - Your pet's teeth are scaled (removing plaque and tartar). - They are polished. - Your pet goes home the same day, but with a healthier, more comfortable mouth and fresher smelling breath.
Following the procedure, home dental care is vital in order to prevent plaque and tartar from recurring. We have many home dental care products available and will advise you on the best products for your pet.
Please contact our office at 785-841-9956 set up your pet's appointment for a comprehensive dental exam. You may also reach us by email at welcome@lawrencevethospital... .