Visit website 1047 Massachusetts St, 2nd Floor, Lawrence, KS 66044 Opens Thursday at 6 p.m.
Photos / Lawrence Stamp Club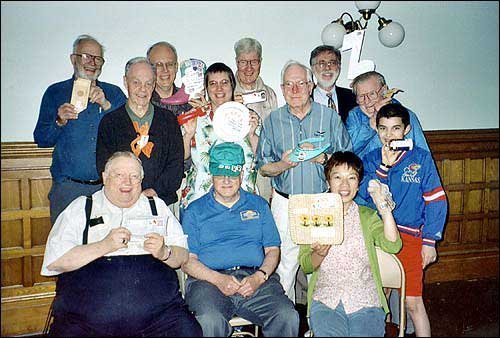 Members of the Lawrence Stamp Club display items mailed to them without packaging as part of the Pushing the Envelope project. Club member Katherine Harris, second from left in second row, came up with the project to experiment with what could be sent in the mail. Back row, from left, are C. Richard Robins, Jon Dunham, Dick Steffen and Richard Reber. Middle row, from left, are Buck Newsom, Harris, Verlin Gilbert and Bill Lassman. Front row, from left, are Dick Fraley, Ernie Angino, Yilan Zhao and Alex Gilbert, standing. Harris submitted the picture.