Visit website 600 Lincoln Street, Lawrence, KS 66044 Open today until 5 p.m.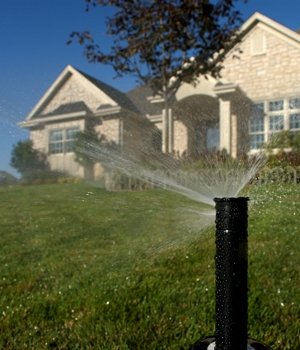 At Lawrence Landscape we prefer to install Hunter Irrigation Products. In twenty years of installing irrigation systems we've found their products both reliable and progressive. Typical residential irrigation construction projects last 2-3 days. The homeowner is responsible for showing us the property lines. We call in utility locates for electric, city, natural gas, phone & cable services so customers are not inconvienced by a service interruption. Our customers will not have water service for 30 minutes during the water line tap and backflow installation.
The next phase looks like a moonscape with pipe ends sticking out of the ground and holes in the yard where valves, pipe connections and irrigation heads will be. When Lawrence Landscape is finished, all the holes will be backfilled and tamped, heads and valves will be adjusted and flagged, and the controller will be labled with the zone locations. Another feature we provide in all our systems is a remote access port for the controller. This feature allows us to access your controller from outside your garage so you don't need to be home during the spring turn on, routine repairs, or winterization. This is a huge convenience to our customers.
With the invoice you'll receive instruction cards and a tool to adjust heads, as well as an "as-built" for the system. The "as-built" shows the location of irrigation wires, pipes, valves and heads on your property. We also keep an electronic copy for safe keeping. With your new irrigation system you are automatically enrolled in our spring turn on/backflow test and winterization programs, so there is one less thing to worry about.