Visit website 600 Lincoln Street, Lawrence, KS 66044 Open by appointment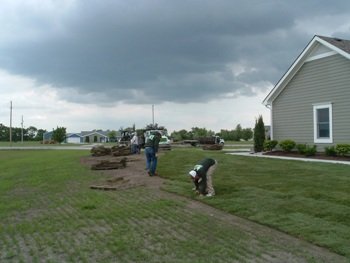 Lawrence Landscape offers both seeding and sod options to either establish or renovate your lawn. Whichever method you decide, we will be happy to give you the lush, green lawn you desire.
There are a few factors to consider when deciding on a method. The time of the job may limit when seeding can be done. A seeded lawn will be more successful if done in the fall. Sodded lawns can be established almost year round. If the job is to renovate an established lawn, over-seeding may be sufficient. When attempting to establish turf on a hillside, sod may be the way to go. Sod is less likely to be washed away and more likely to prevent erosion. Usually the deciding factor comes down to price. Seeding, more often then not, is going to be the less expensive of the two. Although sod is more expensive, it offers many benefits that seed can not.
Contact a Lawrence Landscape representative to assist you with your decision. Remember to protect your investment with a proper maintenance program.