Visit website 609 New Hampshire, Lawrence, KS 66044 Open today until 5:30 p.m.
Services / Through My Sights $29.95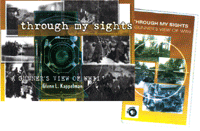 If you prize the book, you'll want to add the video to your WWII collection.
THROUGH MY SIGHTS, the book, is a hardback print companion to the popular video. Expanding on the PBS-released documentary video with more photos, original letters home, and other artifacts, Through My Sights provides a humorous, compelling, and sometimes sobering look at the ordinary soldier's day-to-day life in the midst of World War II.
Covering the war period from February 1, 1943, when Kappelman was inducted into the army, through December of 1945 when he returned from Europe, the book contains 128 pages of Glenn Kappelman's photographs, including many of those featured in the video. Stateside basic training, overseas replacement camps, the 106th Cavalry Group's march across Europe, and life as a soldier during the Occupation were all recorded by Kappelman. Cameras and film were rare among the troops and Kappelman's access to ammunition boxes hung on his armored car allowed him to stash the nearly 100 rolls of film he shot during his tour of duty.
If you prize the video documentary, you will want to add the book to your World War II collection.