Visit website 609 New Hampshire, Lawrence, KS 66044 Opens today at 7:30 a.m.
Services / The First Baseman $9.95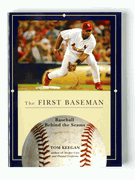 The First Baseman examines baseball's most social, under-appreciated position in depth through the eyes of major leaguers, past and present. Author Tom Keegan, a Hall of Fame voter, interviewed Sean Casey, Todd Helton, Keith Hernandez, Derek Lee, Don Mattingly, Mike Piazza, Jim Thome and other ballplayers as well as several baseball managers and former managers about the nuances of the position and the keys to playing it well. Several players offer insights as to just what they are talking about during those conversations that take place between first basemen and base-runners. The late Elden Auker compared and contrasted Hall of Fame first basemen Jimmie Foxx, Lou Gehrig and Hank Greenberg, all of whom he counted as friends.