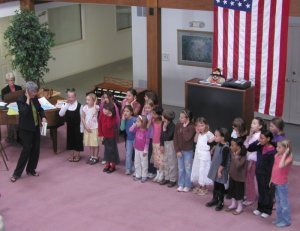 Rehearsals: Tuesdays 4:45 - 5:30 pm Choral Room Lawrence Free State High School
Cadenza is the perfect choir experience for children in grades 1, 2, and 3.
Through our welcoming atmosphere, even the most hesitant singer is encouraged to enjoy the fun of making music with his/her very own, inborn instrument, their voice.
Janeal Krehbiel, Marilyn Epp, and Kevin Hart work to provide Cadenza with a wide variety of opportunities to explore the wonders of singing by introducing folk songs, spirituals, game songs, ethnic music, tongue twisters, and beautiful melodies.
Games that interject information on rhythm and note values, musical charts and an invitation to learn to solfege, all encourage music reading.
Cadenza offers two 8-week sessions per year, the last session of each being an informal concert at a local retirement home.
Come help your child discover his/her inner gift of song!
Please see Scholarship Form and Guidelines for additional details.
Please click on the link below for more information .