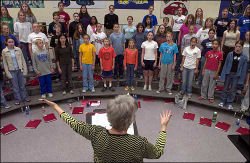 The 75- voice tour choir consists of singers in the 5th - 9th grades. These choir members demonstrate advanced abilities in choral singing and music reading.
The choir is a two-semester commitment. Tuition is $595 and is nonrefundable.
Additional costs are for uniform, tickets to performances, and any desired professional photos or CD recordings.

Over the past 16 seasons, members have been privileged to perform for many prestigious events.
This season the choir has been invited to sing at the American Choral Conductor's Association 50th annual conference in Oklahoma City on March 4, 2009 with a premier performance of an arrangement by Eric Whitacre.
In June of 2009, the choir toured and performed through the Baltic countries of Lithuania, Latvia, and Estonia.
Auditions for the LCC Tour Choir take place each May.
Please click on the link below for more information .