Products / Young Artists Competition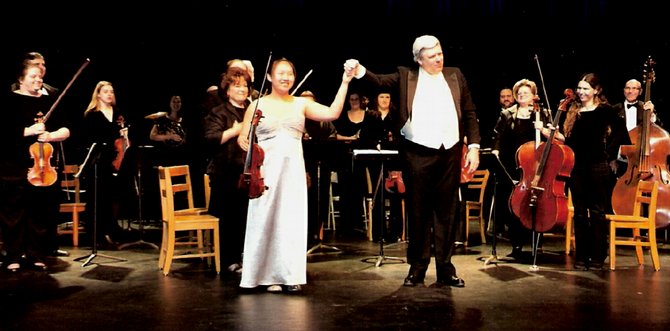 Stephen Paul Wunsch Young Artists Competition
For twenty years, the Lawrence Chamber Orchestra Stephen Paul Wunsch Young Artists Competition has been one of the most important facets of the orchestra's educational outreach. The Lawrence Chamber Orchestra has been proud to offer winners of the competition the opportunity to perform concerto repertoire with the LCO. Recently, the competition has expanded to include all categories of instruments and voice in the annual auditions. With that expansion has come a need during the 2009-2010 season to evaluate and revise competition procedures, including the possibilities for expansion beyond Douglas County. Therefore,the Stephen Paul Wunsch Young Artists Competition will not be held in 2010. Please visit the LCO website for upcoming information regarding the 2011 competition, including application forms for auditioning musicians. You may also email Music Director Steven McDonald with any questions: a4696@ku.edu. If you have further questions, please call the competition coordinator, Terri Chauvin at 785-218-3403.
2009 Young Artists Competition winners
JoAnn Doll Winds, brass, and percussion division and overall winner C.P.E. Bach, Concerto in D Minor for Flute and Orchestra, Allegro
A 2009 Lawrence High School graduate, JoAnn Doll is currently studying flute performance at the University of Kansas. She has won several music competitions, including the 2009 Lawrence Chamber Orchestra Young Artists Competition, and the 2008 Kansas City Flute Association Rising Stars Competition. JoAnn qualified for the Kansas Music Educators' Association state honor groups for three years and was first chair of the state symphonic orchestra in 2009. She also gave a live performance on Kansas Public Radio. In her senior year, JoAnn was named a National Merit Scholar, an AP Scholar with Distinction, a Kansas Governor's Scholar, and a Kansas Honors Scholar. Currently, she is in the Honors Program at the University of Kansas and she participates in the Honors Program Student Council. She enjoys volunteering with campus organizations such as Music Mentors, Students Tutoring for Literacy, and Project Bridge. JoAnn recently studied abroad in China as a winner of the U.S. Department of State's National Security Language Initiative for Youth scholarship.
Dravid Joseph Piano division winner Wolfgang Amadeus Mozart, Concerto in A Major for Piano and Orchestra, K. 414, Allegro
Dravid Joseph, a senior at Lawrence Free State High School, has played piano since the age of five. He currently studies with Professor Richard Reber of the University of Kansas. Dravid recently received a "1" rating for piano at the KSHSAA State piano festival for the second consecutive year. In junior high, he qualified for the Sigma Alpha Iota recitals in all three years of eligibility. He also was selected to play in the Lawrence Arts Center honor recital in 2006 and 2008. In addition to playing piano, he plays French horn in the Free State Symphonic Band and also participates in Marching Band. Outside of music, Dravid plays varsity school tennis, and he holds leadership positions in the Great Universal Language Project, Latin Club, Math Team,and Science Olympiad.