Visit website 4730 Brandon Wood Terrace, Lawrence, KS 66047 Opens Tuesday at 6:30 a.m.
Photos / About eOptimist (dot) org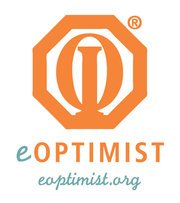 A fresh breath of Optimism @ http://www.eoptimist.org/ab...
See LBOCommunity Stewardship videos @ http://bit.ly/wM3FPI
eOptimist is the new generation of Optimist International Members. We're a 501(c)4 nonprofit and we focus on discovering, sharing and living Optimism with an online community. We have a positive vision for the future because we believe Optimists will change the world. And, we support the next generation of Optimism by leading by example – that is, living The Optimist Creed on a daily basis.
We are a group of people who have united in the name of Optimism. We are always wanting to learn more, better ourselves and find the best in the people around us.