Visit website 2632 Knollbrook Ct, Lawrence, KS 66046 Open by appointment
What We Do / Vinland Valley :: Nature's Notebook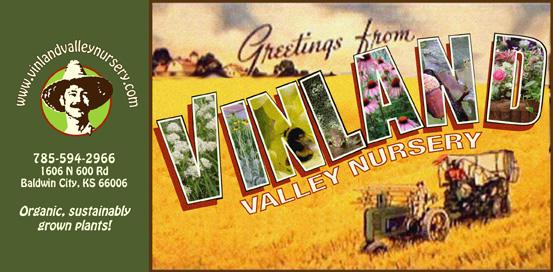 Welcome to the Vinland Valley Nursery stacks! These e-newsletters include loads of information on wildlife and gardening.
Experience combined with field observations provide gardeners with a rich resource that's archived by date for easy reference.
We also offer up-to-date gardening tips, frost warnings and other timely weather information, sale alerts and local events we think you might enjoy.
If you like what you see and don't already receive Nature's Notebook, sign up today and start receiving yours in your e-mailbox.
Vinland Valley Nursery :: Healthy Us ... Happy Earth 1606 N. 600 Road, Baldwin, KS (785) 594-2966 Live music, food, art, educational activities, crafts.