Visit website 2632 Knollbrook Ct, Lawrence, KS 66046 Open by appointment
What We Do / 1988 Monticello Community Historical Society (MCHS)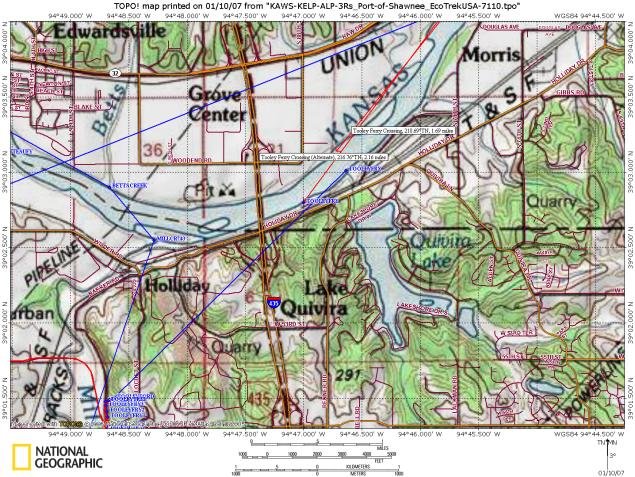 Do the best you can with what you've got where you are!
• Kaw River "Four Houses" "Cedar Creek" (via http://futurethought.pbworks.com/VFW-Post-6654) In 1813 the American Fur Company was formed. and the Choteaus formerly connected with the Missouri Company, and also Pierre, Jr., and his brother Francis became members.
This company occupied the posts of the Missouri Trading Company, of which it was an outgrowth, and made great efforts to monopolize the trade in the Southwest by rooting out independent traders.
Francis Choteau was sent to Kansas, and was employed for several years in this work.
The post known as the "Four Houses," so called from its being built on the four sides of an open square, was established on the north bank of the Kaw, twenty miles above its mouth, and in 1821 a general agency for furnishing supplies was established at the mouth of the river; from which men were sent to the Neosho and Osage.
In 1825 Francis was joined by Cyprian, his brother, and a house was built about opposite the present site of Muncie, on the south side of the Kaw, and in 1830 another trading post was established by Frederick on Mission, then American Chief's creek, in what is now Shawnee county.
In 1819-1820, the Missouri River froze over before Christmas and the ice did not begin to break up until near the end of March. On March 1, the snow stood two feet deep in the bottomland near the mouth of the Kansas River (also called the Kaw).
Snowmelt and heavy spring rains led to flooding in 1826. The rising Missouri washed away Randolph Chouteau's fur trading post near the Kaw-Missouri junction, and he soon moved his family upriver to the "Four Houses" trading post on Cedar Creek, east of present-day De Soto.
---
Q-1: What functions take place at the museum?
A: The meeting room is used regularly, churches use the building, and MCHS holds events there to reach out to the community. Groups using the building contribute for utilities and lawn care, but it is not enough to cover the capital expenses. (Learn more @ http://monticelloks.org/monticel.htm)
Q-2: Does MCHS partner with Johnson County Museum?
A: See http://www.jocohistory.org/cdm/search/searchterm/Monticello/order/nosort
Q-3: What are MCHS financial support sources? A: It is derived from annual membership fees, grants, fundraisers, and income from the usage of the building.

Q-4: Do Shawnee or Lenexa provided support?
A: MCHS works with museums owned by the cities, but the cities do not provide any funding. Johnson County Heritage Trust Fund's grant review board discussed MCHS partnerships with the De Soto School District (USD-232).
More on 1988 Monticello Community Historical Society (MCHS).