Visit website 913 Tennessee St, 2, Lawrence, KS 66044 Open today until 5 p.m.
Products / KABC Board Member Margaret Farley Recognized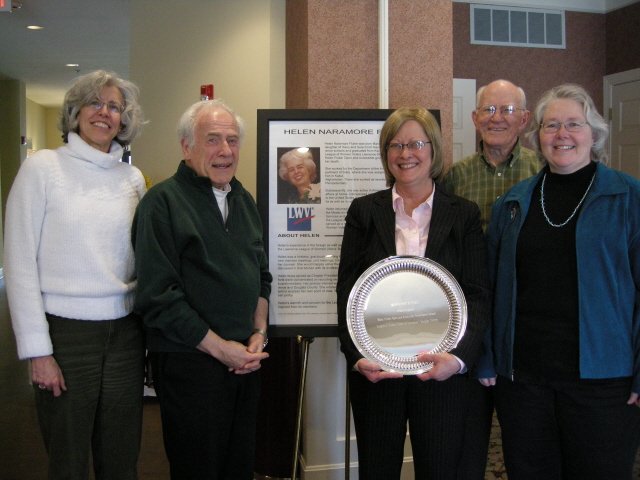 The League of Women Voters – Lawrence-Douglas County Announces the Selection of Margaret A. Farley as the 2010 Recipient of the Helen Naramore Fluker Award.

LAWRENCE, KS. March 13, 2010. Each year the League of Women Voters presents the Helen Fluker Open and Accessible Government Award to a Douglas County resident who has made significant contributions to increase citizens' access to and participation in government. The 2010 recipient of the Helen Naramore Fluker Award is Margaret A. Farley of Lawrence, Kansas. Farley is a trial attorney with the law firm of Farley & Monger, P.A., and she volunteers on the board of directors of Kansas Advocates for Better Care, as well as on the legislative committee of the Kansas Association for Justice. Ms. Farley was presented with the award at a luncheon hosted by the Lawrence-Douglas County League of Women Voters on Saturday, March 13, 2010 at the Smith Conference Center on the Brandon Woods campus. Kay Hale, League President presented Ms. Farley with the award. The Helen Naramore Fluker Award recognizes a person who has made significant progress in attempting to increase citizen participation in government; educating the public about an issue, working toward more "open" government; and/or being involved in the community in ways that lead to better political decision-making. Farley was recognized for her significant achievements in several of these areas and especially for making government more accessible and responsive to elders and persons with disabilities who live in Kansas Nursing and Adult Care Homes.
HELEN NARAMORE FLUKER AWARDEE: Margaret Farley, Lawrence, Kansas
This achievement award is given to a person whose work (professional and/or volunteer) exemplifies significant leadership in citizen participation in government. The award is named in honor of a former League member, Helen Naramore Fluker. This year's recipient, Margaret Farley, is a member of the board of Kansas Advocates for Better Care. Ms. Farley is described by colleagues as a woman who is "a strong advocate with a compassionate heart and who has dedicated much of her life, both professional and personal, to improving access to justice for elders and others who live in Kansas Nursing and Adult Care Homes." Farley has been a leader in promoting consumer access to information about government inspection results of nursing homes, improved training for the aides who provide direct care to residents in nursing homes and assisted living, and stronger oversight and enforcement of regulations that govern care and quality standards in licensed adult care homes in Kansas. In 1992 as Executive Director of KABC, Farley legally challenged the government's failure to punish a nursing home which injured several residents. The lawsuit was unsuccessful but the publicity over that case ultimately resulted in a bill which successfully increased the civil monetary penalties assessed against nursing homes for serious non-compliance with federal and state laws and that placed elders and residents at risk of harm or in harms way. The daily penalty maximums were raised to $10,000, significantly higher than prior penalty maximums. The new maximum created a stronger incentive for nursing home to comply with care standards.

Margaret impacts long-term care public policy by lending her legal and health care expertise to Kansas Advocates for Better Care and Kansas Association for Justice. Ms. Farley holds a Juris Doctor and a Bachelor of Science in Nursing. Through her legal practice, Ms. Farley represents persons seeking redress through the courts. She has written consumer guides for persons seeking long-term care placements and guides to educate consumers about the civil legal issues they face when purchasing long-term care placement and services.

Present at the luncheon awards ceremony were members of the League's Fluker award selection committee, members of the Fluker and Naramore families, board members from Kansas Advocates for Better Care, and League members. Prior Fluker honorees, Hilda Enoch and Senator Marci Francisco were also present.
The League of Women Voters is a non-profit, non-partisan political organization that encourages the informed and active participation of citizens in government, works to increase understanding of major public policy issues and influences public policy through education and advocacy.

Kansas Advocates for Better Care (KABC) is a 501 c 3 non-profit with the mission of "Advocating for Quality Long-Term Care" for frail and elderly residents of nursing homes and other licensed care facilities. KABC advocates for increased quality in long-term care options that includes nursing homes, assisted living, home plus, and now in-home care through health and community-based services (HCBS). KABC provides guidance, education and consumer advocacy for those seeking a long-term care facility, and education to those who provide care. KABC encourages long-term care providers to adopt the "person-centered care" model of delivering health care services. If you, your family or a friend is in need of information about long-term care choices, please call for assistance, toll-free (outside of Lawrence): 800-525-1782, or 842-3088 (in Lawrence), email us at info@kabc.org or visit www.kabc.org