Services / Lawrence Business Hall of Fame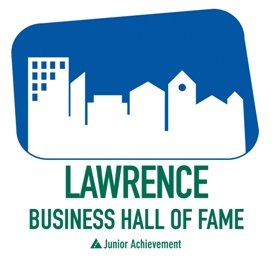 CLICK http://lawrencebusinesshalloffame.org/nominate.php to make a nomination.
Lawrence Business Hall of Fame
Purpose The Purpose and intent of the Annual Lawrence Business Hall of Fame event is to honor prominent business leaders who have made extraordinary contributions to Lawrence, earned the respect of the local community and called attention to the Free Enterprise System and to its value to our country and citizens in shaping our local way of life. Individuals inducted into the Hall of Fame have demonstrated business excellence, are courageous thinkers, have vision, are innovative and inspiring leaders and are community minded. They have worked to lead our community to a better, higher level. Laureate Selection Criteria To be considered as a Hall of Fame Laureate, an individual's record of business achievement must demonstrate excellence in the following general categories; business excellence; entrepreneurial spirit, courageous thinking and action; inspiring leadership; community impact; positive role model; enduring accomplishments; local influence; and the field of work must fall within the area of business. Hall of Fame Laureates are individuals whose work has moved the Lawrence community in a better, stronger direction. Both posthumous and living leaders can be honored.
Tribute Dinner Laureates will be inducted at an inspiring black tie Tribute Dinner in early fall of 2010. A highlight of the evening will be an impressive presentation of the esteemed Lawrence leaders as they are introduced by representatives from business and recognized in Tribute Videos.
Physical Hall of Fame
A portrait of each laureate will hang in the physical Business Hall of Fame, which will be in a location to be determined.
Inspiration
By honoring these esteemed leaders, we hope to encourage and inspire young people to make a career in business and contribute to their communities as have those persons inducted into the Hall of Fame. We hope that Lawrence area children, through learning of the accomplishments of these individuals, will be able to follow in the Laureate footsteps and become valuable community leaders.
About Junior Achievement of Kansas
In a time in which nations compete with brainpower, there is great concern about the readiness of our future workforce. Will the leaders of tomorrow have the skills necessary to help America stay on top in an ever-changing economy?
Junior Achievement is proud to address this critical issue by ensuring that every child in America has a fundamental understanding of the free enterprise system by providing economic education programs to students in kindergarten through twelfth grade classrooms. By participating in these types of programs, students are able to develop the desire to stay in school, have a positive attitude toward work and appreciate lifelong learning, and become prepared for a future of success and leadership. Volunteers from local businesses bring JA's real world economic lessons into classrooms, serve as role models, share their working lives, and help students gain a new sense of self-esteem, respect for others and understanding of how to turn challenges into opportunities. During the 2008-09 academic year, Junior Achievement of Kansas worked with more than 4,000 children in the Douglas County area.