4106 W 6th Street, Suite E, Lawrence, KS 66049 Open today until 4 p.m.
Products / BTE "Behind the Ear"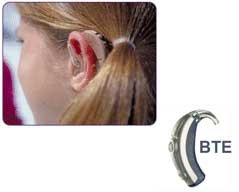 The Behind the Ear hearing aid is an extremely versatile option. Because of its size it is ideal for people with extreme losses. Generally a BTE has a clear tube attached to an ear mold which is custom fit to the ear. Other times an open fitting, similar to the OTE earpiece shown above, is used for high frequency losses. This allows the wearer to have a volume control and some extra program features. Children are fitted with BTE hearing aids and a new ear piece made regularly.