Visit website 1717 College St., Baldwin City, KS 66006 Opens Thursday at 8 a.m.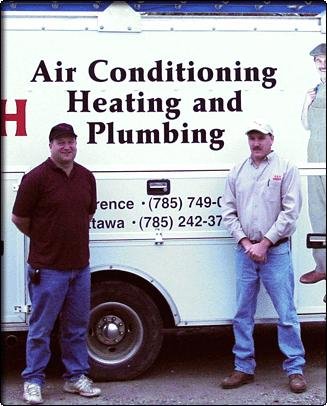 A & H Air Conditioning and Heating is a locally owned and operated company. Having just celebrated the company's ninth anniversary, owners, Bill & Alan, have combined over fifty years of experience. A & H is a full service HVAC company, with certified technicians on call twenty four hours a day, seven days a week, including all major holidays. We at A & H understand that controlling equipment failure is as easy as controlling the weather.
But, A & H is more than just a heating and air conditioning company, we are a family. Owners Bill Harmon and Alan Wright have been best friends since the fifth grade. Long lasting friendships are rare. Additionally, they have taken their friendship and turned it into a very successful partnership in business.
Two friends in turn married two friends, both wives attended the same school since kindergarten, but wait the irony doesn't end there. Both couples are happily married with one son and one daughter. It's amazing how things find a way of working themselves out. This is just the kinship between owners; all the employees are like family to one another. We pride ourselves in our high quality workmanship and customer service.