Visit website 4931 W. 6th St, Ste 130, Lawrence, KS 66049 Open today until 10 p.m.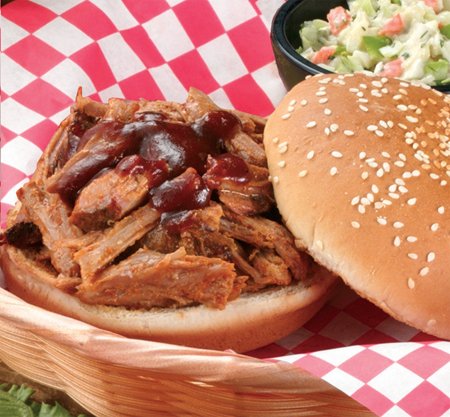 Our sandwiches and are served with spicy Hell-Fire Pickles and your choice of one side. Order yours "Memphis-style" and for just 99 cents we'll top your 'que sandwich with creamy coleslaw.
Texas Manhandler The sandwich that separates the men from the boys: real Texas beef brisket and zesty hot link sausage, sliced thin, piled high, and crowned with Hell-Fire Pickles.
Georgia Chopped Pork Sandwich The real "thang": Hickory-smoked and slathered with Rich & Sassy® BBQ sauce.
Texas Beef Brisket Sandwich Piled high with hand-seasoned, hickory-smoked Texas beef brisket.
Barbeque Chicken Sandwich Hand-pulled chicken, tossed in BBQ sauce and topped with melted Jack cheese.
Hickory Chicken Sandwich Marinated chicken breast, grilled and topped with Jack cheese and two strips of thick-cut smoked bacon.
Cajun Chicken Sandwich Grilled chicken breast with pepper-Jack cheese, fried onion strings and New Orleans-style rémoulade sauce.
Char-Grilled Chicken Sandwich With crisp lettuce and tomato.