Visit website 4931 W. 6th St, Ste 130, Lawrence, KS 66049 Opens today at 11 a.m.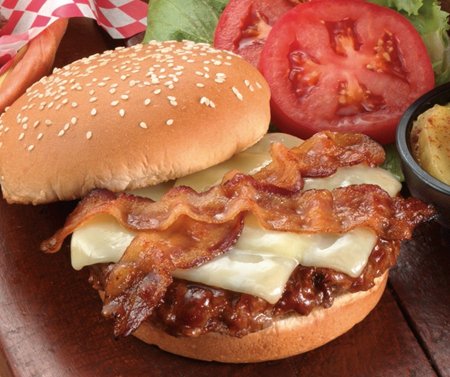 Our hearty half-pound burgers are seasoned 100% ground beef patties, grilled medium-well and served with spicy Hell-Fire Pickles and your choice of one side.
Ultimate BBQ Burger A juicy ground beef patty beneath a pile of Georgia chopped pork with two strips of jalapeño bacon, melted Cheddar cheese, and our signature Beam & Cola BBQ sauce.
Devil's Spit® Burger Careful, this cow kicks! A seasoned burger slathered with Devil's Spit® BBQ sauce and topped with melted pepper-Jack cheese, jalapeño bacon and Hell-Fire Pickles.
NEW True-Bleu Cheeseburger Bleu cheese lovers, meet the Cheeseburger of Your Dreams! A flamegrilled patty with lettuce, tomato, red onion and topped with both tangy bleu cheese dressing and crumbles. All on a toasted bun.
NEW Dave's Turkey Burger A meaty burger that's really lean? Now you're talkin' turkey! Premium ground turkey on a toasted bun loaded with lettuce, tomato, red onion and our special BBQ mayo.
Dave's Favorite Burger Melted Jack cheese, two strips of smoked bacon, and Dave's favorite sauce - Rich & Sassy® - atop a char-grilled burger.
Char-Grilled Cheeseburger A classic burger, served with lettuce, tomato and your choice of melted Jack or Cheddar cheese.