Visit website 4931 W. 6th St, Ste 130, Lawrence, KS 66049 Opens today at 11 a.m.
Menu Items / Citrus Grill | 600 Calories or less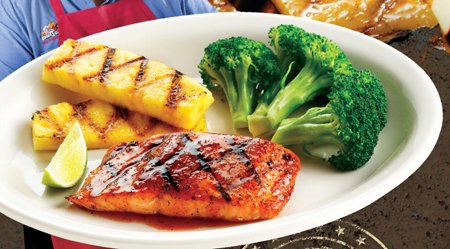 Served with two juicy grilled pineapple steaks and fresh steamed broccoli.
NEW Citrus Grilled Salmon What a catch! A beautiful 6-ounce salmon fillet grilled to perfection and drizzled with our new Honey Chipotle Lime glaze.
NEW Citrus Grilled Shrimp Our new Honey Chipotle Lime glaze gives these plump, luscious shrimp skewers a real kick in the tail. It'll come sizzling off the grill and right onto your list of favorites.
NEW Steak Tenderloins Sinfully delicious, melt-in-your-mouth tender. Dave takes special pride in showing just how good light eating can be.
NEW Dave's Naked Ribs 4-bones The bare fact of the matter is Dave's ribs are so juicy and tender, they don't even need sauce to make your mouth water. In fact, some purists prefer it this way. And for a change of pace, you might, too.