Visit website 4921 W 18th St, Lawrence, KS 66047 Opens Thursday at 7 a.m.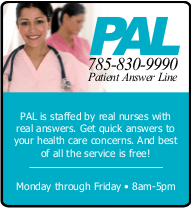 Family Medicine Associates provides a service to our patients called the Patient Answer Line or PAL. This free service connects you with one of our experienced registered nurses to answer your health questions. This line is answered between 8:00 AM and 5:00 PM Monday through Friday. Call direct to 830-9990 or choose option 3 on our phone menu.
The PAL nurse can assist you in the following ways:
General medication questions
Assess your symptoms
Evaluate the need for an office visit
Patient education & guidance
Determine which doctor is right for you
Read more about our Patient Answer Line.