Visit website 920 E 30th Street, Lawrence, KS 66046 Opens today at 8 a.m.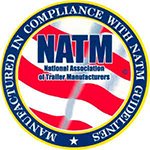 In designing our trailers we take many things into consideration. We consider customer use and expectations, take into account engineering requirements and arm the assemblers with quality control tools like "Design of experiments" techniques and SPC demerit charts. We strive to design and build trailers that are both durable and economical.
The use of "Division National Association of Trailer Manufacturers - Compliance with NATM Guidelinesof Tasks" engineering is used extensively. The tasks of a part are divided and optimize solution is found for each. Our design and technical staff have gained great experience from the thousands of repairs that we have made to our trailers as well as many other manufacture's trailers over the years. This exposure to a wide variety of design and assembles both successful and otherwise has created a wealth of practical knowledge that is applied to the improvement of the design and construction of Eagle trailers.