Visit website 200 Maine Street, Suite C, Lawrence, KS 66044 Opens today at 8:30 a.m.
Events / 2014 3.d Casino Night Fundraiser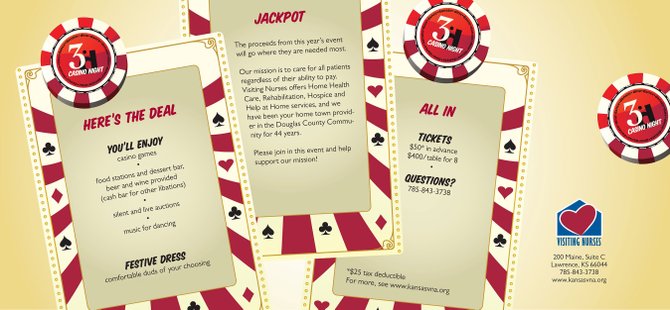 Friday, April 11, 2014, 6 p.m. – 11 p.m.
It's back, and bigger than ever! Featuring over a dozen tables of Blackjack craps, roulette and Plinko! we have prizes varying from gift cards to a Flat screen TV! Pre-purchase casino chips and receive an added bonus to play with.
This year join the Hurst Fine Diamond Club! Purchase a glass of champagne for $25 and get a chance to win a diamond or one of several Pandora bracelets. Every glass comes with a $25 gift card to Hurst Fine Diamonds.
Feel like dancing? Klear Ambition will be performing live, so wear comfortable shoes, and bring your moves!
Hungry? Several wonderful options abound at our many food stations, courtesy of several Lawrence area restaurants.
Feeling sweet? Sample the many dessert delicacies provided by generous area businesses and individuals. There is bound to be a treat to satiate your sweet tooth!
There will be a photo booth on hand to capture your wild side.
Don't forget our exciting live and silent auctions! There is something for everyone to take home and enjoy. Prizes range from spa packages to a spot in the Bill Self Fantasy Basketball Experience.
Call today to reserve your tickets!
785-843-3738
More Information:
Find it on Facebook: