Visit website 111 East 11th Street , Lawrence, KS 66044 Open today until 3 p.m.
Events / Judge Louis Carpenter: A Rising Star Anniliated By Hate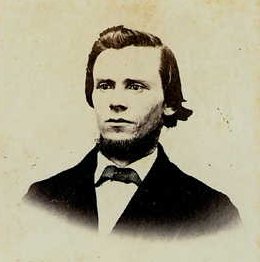 Thursday, Aug. 22, 2013, 7 p.m. – 8:30 p.m.
Presented at 7:00 p.m. on August 22, 2013, at the Watkins Community Museum of History at 11th and Massachusetts Street in downtown Lawrence.
The presentation is being made as part of the commemoration activities surrounding the 150th anniversary of William Clarke Quantrill's raid on Lawrence, Kansas, on August 21, 1863.
Louis Carpenter was described by the Reverend Richard Cordley as being "a young man of marked ability." Through his friendly good manner, Judge Carpenter had managed to turn away several groups of Quantrill's men who had come to his house during the raid, but one last group of raiders came to his door and asked him a fateful question, and killed him because of his answer.
The presentation is free and open to the public.