Visit website 1006 W 6th Street, Lawrence, KS 66044 Opens Friday at 8 a.m.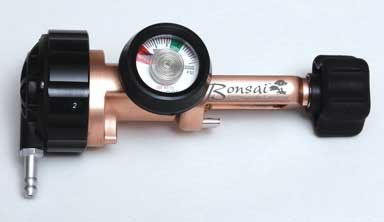 Pneumatic construction incorporates no electronic parts and eliminates the need for batteries.
Delivers up to 6:1 increase in usage time over continuous flow. This means that a cylinder used in conjunction with a BONSAI OXYPneumatic Conserver will last more than six times longer than a cylinder used without a conserving device.

Offers 1-7 lpm flow equivalency settings.
Delivers fixed pulses of oxygen within the first 150 milliseconds of inspiration.
Utilizes a standard, single-lumen cannula.
Clinically-determined delivery pattern and bolus size to ensure patient saturation up to 40 breaths per minute.
Weighs 9.9 ounces, offering extended ambulation with minimum weight and bulk.
Simple patient operation. One control knob does it all!
Yoke swivels 55 degrees. Allows for attachment to numerous types of cylinders and provides flexible positioning in carrying bags to accommodate diverse viewing windows.