Visit website 1006 W 6th Street, Lawrence, KS 66044 Opens today at 8 a.m.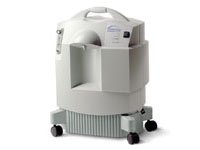 Respironics Millennium ® Concentrator with OPI™ or without OPI™
Product Features:
The Respironics Millennium Concentrator is designed to be reliable and easy to move around due to its light weight. Additionally, the Millennium is extremely quiet. With 60% fewer parts, this concentrator is simple to service, and requires less maintenance over its lifetime. Each Millennium has been rigorously tested before being delivered to provide a high quality oxygen-therapy system.