Visit website 1019 Massachusetts Street, Lawrence, KS 66044 Opens Monday at 8:30 a.m.
Photos / Dr. Brent Crandon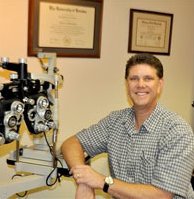 Dr. Brent Crandon enjpoys treating patients of all ages with care and enthusiasm. Since 1999, he has been taking his optometric skills abroad with VOSH (Voluntary Optometric Service to Humanity). He has traveled regularly to Latin America, serving those who have no access to vision and eye care.
Dr. Crandon has practiced in downtown Lawrence since 1989, with his wife, Dr. Elizabeth Crandon. They have three daughers, Lauren, Stephanie and Erica. He is origianally from Derby, Kansas. Dr. Crandon graduated from Pittsburg State University with a bachelors in biology in 1985. He received his doctor of optometry degree from the University of Houston College of Optometry in 1989.
Dr. Crandon is a member of the Kansas Optometric Association (K.O.A.) and the American Optometric Association (A.O.A.). His other interests are his church, St. John the Evangelists Catholic Church, and sports, especially the Kansas City Chiefs.