Visit website 1019 Massachusetts Street, Lawrence, KS 66044 Open today until 5 p.m.
Photos / Dr. Brent Crandon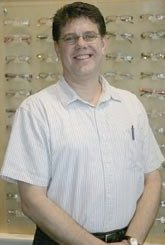 Dr. Brent Crandon is an optometrist at Crandon & Crandon. He and his wife, Dr. Elizabeth Crandon, have been practicing in downtown Lawrence since 1989. Dr. Crandon is originally from Derby, KS. He graduated with a Bachelors Degree in Biology (pre-med) from Pittsburg State University in 1985. He graduated with a Doctor of Optometry degree from the University of Houston in 1989.
Dr. Brent practices full-scope optometry and sees patients of all ages. He is also involved with VOSH (Voluntary Optometric Services to Humanity) and frequently travels to third world countries to provide eye care to the poor. He enjoys volunteering at his local church- St. John's - traveling, and sports!