Visit website 2113 Delaware Street, Lawrence, KS 66046 Opens Thursday at 8:30 a.m.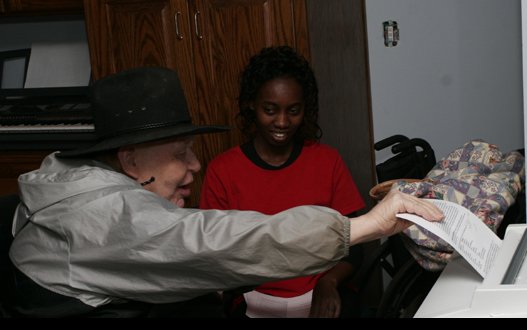 The Day Services Program at CLO focuses on teaching adults with disabilities ways to fully live, work and participate in their community.
Recreational opportunities are important as this provides individuals the opportunity to express themselves through hobbies, sports, and other interests. With support from their teachers, they visit stores, volunteer, and attend local parades, festivities, and events such as live performances at the KU Lied Center and Starlight Theater. And everyone enjoys watching the University of Kansas Jayhawks no matter which sporting event! All of these activities have one common purpose: To teach individuals with disabilities ways to appropriately socialize and expand their network of friends and acquaintances in the community.
Employment is a focal point in the Day Services Program. For most people, quality of life is defined by their job. This is the same for adults with disabilities that find pride and self-worth in earning a paycheck. This is why the Supported Employment department finds new and creative ways to make the dream of being employed a reality! Along with partnerships with local businesses that employ some individuals, CLO also manages recycling sites, curbside recycling and paper shredding to provide meaningful employment opportunities. It is amazing to see an individual grow in their self-esteem and everyday skills just by going to work!