Visit website 606 W 29th Ter, Lawrence, KS 66046 Opens Sunday at 9:30 a.m.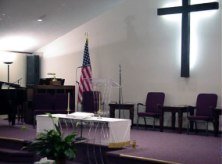 Sunday
* Sunday school at 9:30am, classes for all ages
* Morning worship at 10:30am, attended nursery available
* Evening worship at 6:30pm

* Sunday morning and evening worship services are recorded and available on audio CD.

Wednesday 6:30-8:00pm
Adults meet for a Bible study taught by Pastor Lackrone. This is a casual atmosphere with tables and chairs. Free coffee is provided. The format is one book of the Bible at a time in a week-by-week series with heavy emphasis on discussion. Free study notes are provided and are also available in CD-ROM and bound form.
Bible-based programs are available for all other age groups during the same time.