Visit website 318 Crimson Ave, Baldwin City, KS 66006 Opens today at 8 a.m.
Products / STIHL Multi-Task Tools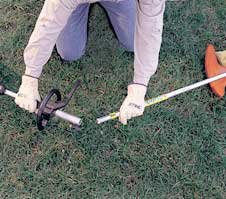 KM Series Multi-Task KombiMotors
The STIHL KombiSystem (KM Series) is a complete family of multi-task tools comprised of a STIHL KombiMotor(KM) and numerous KombiSystem attachments. The split-shaft design lets you quickly change attachments. They offer great flexibility for occasional users, semi-professionals and professionals for tasks such as hedge trimming, edging, pruning, cleaning and cultivating, and more attachments are being developed. This system not only saves on storage and transportation space, it allows for significant cost savings as well.
STIHL products and specifications change from time to time. To endeavor to maintain correct information to our customers, this specification has been updated and may differ from the specification shown in the current year's literature.